Who thinks about sustainability when they are considering what style they like? I for one am passionate about style and love the idea of re-using resources that will improve the longevity of our planet and the health of it's inhabitants.
For those of you that have been to my store on Etsy
ThisMerryLife
, you know that my brand is all about reusing old and broken pieces of jewelry and giving it new life in a different form. The term we use for this is
"Upcycling"
; reusing items without breaking them down first. This isn't a brand new concept, it has in fact been around for some time. What has changed is how mainstream this idea is becoming. Many designers have eco-friendly and ethical clothing and accessory lines with the focus being not so much about the style itself but how the style is made.
In the past I think eco-friendly / sustainable / recycled / upcycled fashions had a reputation for being a bit... odd. Clothing and accessories were often unwearable as actual clothing items (or, let's get real, just butt ugly); they were made to display the creativity of the artist rather than actually to be functional.
Newspaper dresses: in a rainy climate they would melt like like an ice cube on a hot sidewalk.
Stiletto made with recycled elephant dung. Wait, what??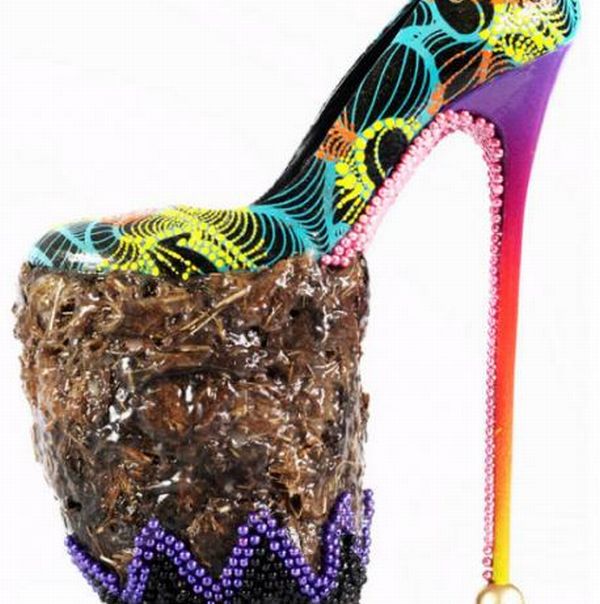 More recently as being kind to our earth becomes more mainstream, there has been more demand for eco-friendly and ethical fashions. Clothing is made with earth friendly dye, organic materials, in factories that use sustainable processing methods, in ways that do not harm animals and made locally by designers that pay their workers appropriate wages. This picture below shows just how fair eco-friendly fashion has come; many mainstream designers have an eco-friendly line, and some designers specialize exclusively in eco-friendly fashion.
ShopEthica.com ... designers that specialize in ethical fashion
In the present world you will find beautiful recycled fashion in many of your favorite stores. H&M is a great example of this with their
Conscious
and
Conscious Exclusive
collection; Etsy is another fantastic place to find earth friendly fashion and accessories. My store
happens to be one of them and it is one of the reasons I am so passionate about this topic, however there are literally hundreds of other amazing sellers that use sustainable principles to design and make their items.
Sustainable style can be very cool, hip and wearable and I encourage all those that have a passion for sustainability and style to look for items in your favorite stores that are made with ethical principles... you will be amazed at what you find!
Thanks for reading...
Merry W